Modbus Gateway DP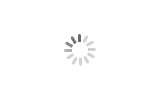 Modbus Gateway DP
Microcyber

China

In Stock

500 Sets/Month
Modbus to DP Gateway realizes the conversion function from Modbus RTU to PROFIBUS DP, making multiple slave station devices that conform to Modbus RTU communication regulation access to PROFIBUS DPnetwork. Modbus can be as master or slave, and this function can be realized by a special function button.
Modbus to DP Gateway: G0306 gateway can realize interconnection from Modbus RTU device to fieldbus PROFIBUS DP, and protocol conversion between Modbus RTU and PROFIBUS DP/V0. The user can make multiple Modbus RTU devices access to PROFIBUS DP network only by GSD file configuration.

24V DC power supply, standard PROFIBUS DP interface, rapid to diagnose device working state by indicator lights, easy to use.
G0306 has combined high reliability and flexibility, being indispensable internet tool of all industries of system integrators and plant operating personnel.
Modbus to DP Gateway Features
Support 31 Modbus RTU Slave Devices at Most
Be Tallied with PROFIBUS-DP/V0 Protocol Stipulations
Support 244 Input, 244 Output, 244 Parameters At Most
Modbus RTU and PROFIBUS DP Configured Flexibly by GSD Files
Transparent Data Transfer of Modbus RTU and PROFIBUS DP
PROFIBUS DP Address Set up by Hardware
35mm Rail, Easy to Install
Frequency Converter, Motor Start Protection Device, Transmitters, Intelligent Measuring Device AND Instrument, etc. with MODBUS Protocol Interface
Modbus to DP Gateway Parameters
Modbus to DP Gateway Technical Specifications
Modbus to DP Gateway Basic Parameters
Working Voltage: 24VDC(±20%)
Rated Current I24V: ≤60mA
Working Temperature: -20℃~70℃
Storage Temperature: -40℃~70℃
Humidity Range: 5%~95%RH
Modbus Physical Interface: RS485 (Configurable Terminal)/ RS232
Modbus Character Transfer Mode: RTU Mode
Modbus Gateway to DP Performance Index
Protection Grade: IP20 for outer case grade
Electromagnetic Compatibility:
Complied with GB/T 18268.1-2010
FF Terminal Test Method is Complied with GB/T 18268.23-2010
Modbus Gateway Physical Characteristics
Weight: 0.2kg
Structure Material:
Case: ABS; Clip: POM;
Paint: Polyester Epoxy Resin
Modbus Gateway Default Communication Parameters
General Default Communication Parameters
Baud Rate: 9600
Data Bit: 8
Stop Bit: 1
Verification: NO
Modbus Gateway G0306-MS Default Communication Parameters
MODBUS Slave Station State Monitoring: NO
Data Updating Mode: After response of all MD
Writing Mode: Always write
Master Transmit Interval: Slave station's reply is transmitted
Interval Time Value: 500ms
Slot:
Slot 1: gross state module; slot 2: control module; slot 3~39: no module
Modbus Gateway G0306-SS Default Communication Parameters
Modbus Slave Add.: 1
Supportive Modbus Function Code
1: Read Coil
2: Read Discrete Input
3: Read Holding Register Value
4: Read Input Register Value
5: Write Single Coil
6: Write Single Register
15: Write Multiple Coils
16: Write Multiple Register Values
Modbus Gateway Device Classification
This gateway has two models based on Modbus interface difference (the same as actual model selection):
Model Selection
GW-MODB-DP-RS485: RS485
GW-MODB-DP -RS232: RS232
Modbus Gateway has following model selection based on communication mode (function classification, easy for file description by using following name, not actual model selection. Refer to appendix for actual model selection ):

Note:
1) V1.0 version only realizes GW-MODB-DP-RS485 version. GW-MODB-DP-RS232 version will be added soon.
2) G0306 gateway can realize the shift between G0306-MS and G0306-SS via function button based on user requirement. Please refer to 2.27 for its method.
Modbus Gateway Structure
1.2.1 Gateway Outline Dimensional Drawing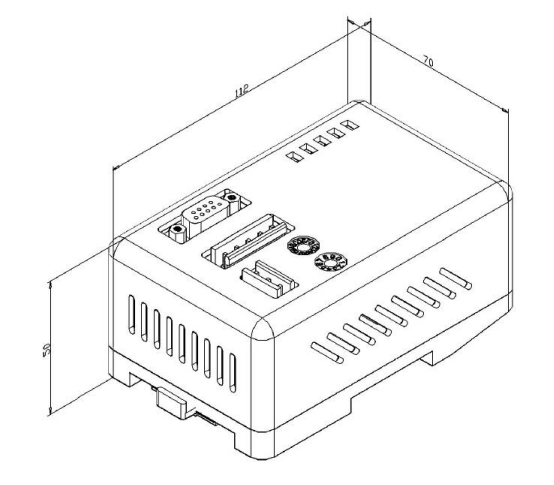 Gateway Outline Dimensional Drawing(112*70*50,unit mm)
Gateway Structural Drawing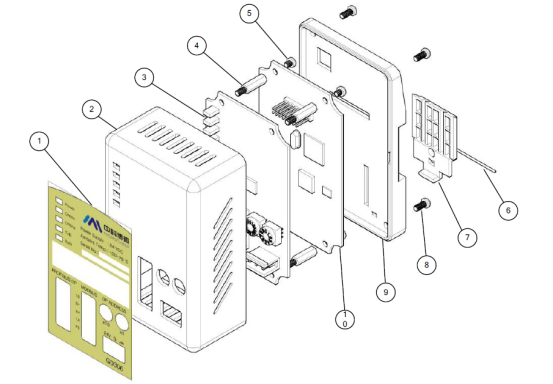 Modbus Gateway Installation
DIN guide rail installation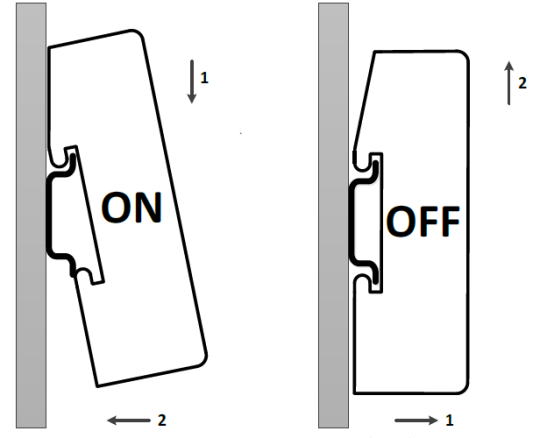 DIN Guide Rail Installation
Modbus Gateway Working Principle
G0306 Modbus to DP Gateway supports both Modbus RTU and PROFIBUS DP. It is PROFIBUS DP slave device. when serving as Modbus master (G0306-MS), it can connect at most 31 Modbus slave station into PROFIBUS PA network theoretically (it should be 485 bus environment, and we suggest less than 10 Modbus slave device to ensure communication quality).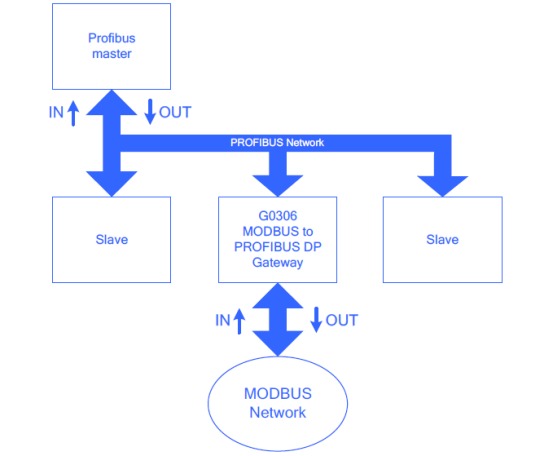 Gateway System Connection Diagram
Gateway as Modbus Master(G0306-MS)
Working mechanism of G0306 Modbus to DP gateway MS is by model configuration to reaize data conversion from Modbus data to DP data. Each module can configurate one Modbus message. There are totally 39 slots and 209 modules. Among them, 1 and 2 slot has fixed function. There are another 37 slots avalible. Each slot can configurate one module, which means it can configurate at most 37 Modbus messages.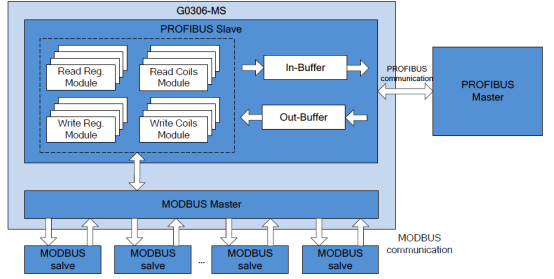 Gateway Functional Block Diagram(G0306-MS)
How To Choose G0306 Modbus to DP Gateway?
Appendix B Model Selection Table of G0306 Modbus to DP Gateway

FAQ
Q: Can I get a free electronic manual?
A: Yes, if you want it, please contact us.
Q: How many slots and modules does G0306 Modbus to DP Gateway have?
A: G0306-SS has 20 slots and 67 modules in all.
Q: How do slots and modules work?
A: Among them, slot 1 and 2 has fixed function and there are other 18 slots can be used. Each slot can configure one module. That is to say at most 18 kinds mapping relation from Profibus input output relief area to Modbus storage area can be built.
Q: Can you provided OEM service?
A: Yes, we can, such as communication board, we can also provided fieldbus development toolkit.
Hot Products--Modbus Gateway DP