Modbus Gateway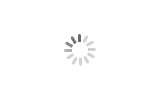 Modbus Gateway
Microcyber

China

In Stock

500 Sets/Month
Modbus to FF Gateway--G0313 is a gateway device of Modbus protocol and FF protocol developed by Microcyber. As Modbus master station, G0313 Modbus to FF Gateway communicates with Modbus-RTU device via RS485 interface, and it can convert the data of Modbus-RTU device to FF device variable output.
Modbus to FF Gateway Features
Modbus-RTU protocol to FF protocol
Compliant with FF Standard
Support LinkMaster Function
Support standard DD or EDD specification (FF Hl)
Support p to Four Modbus Devices
Modbus to FF Gateway Dimension
Outer Size Diagram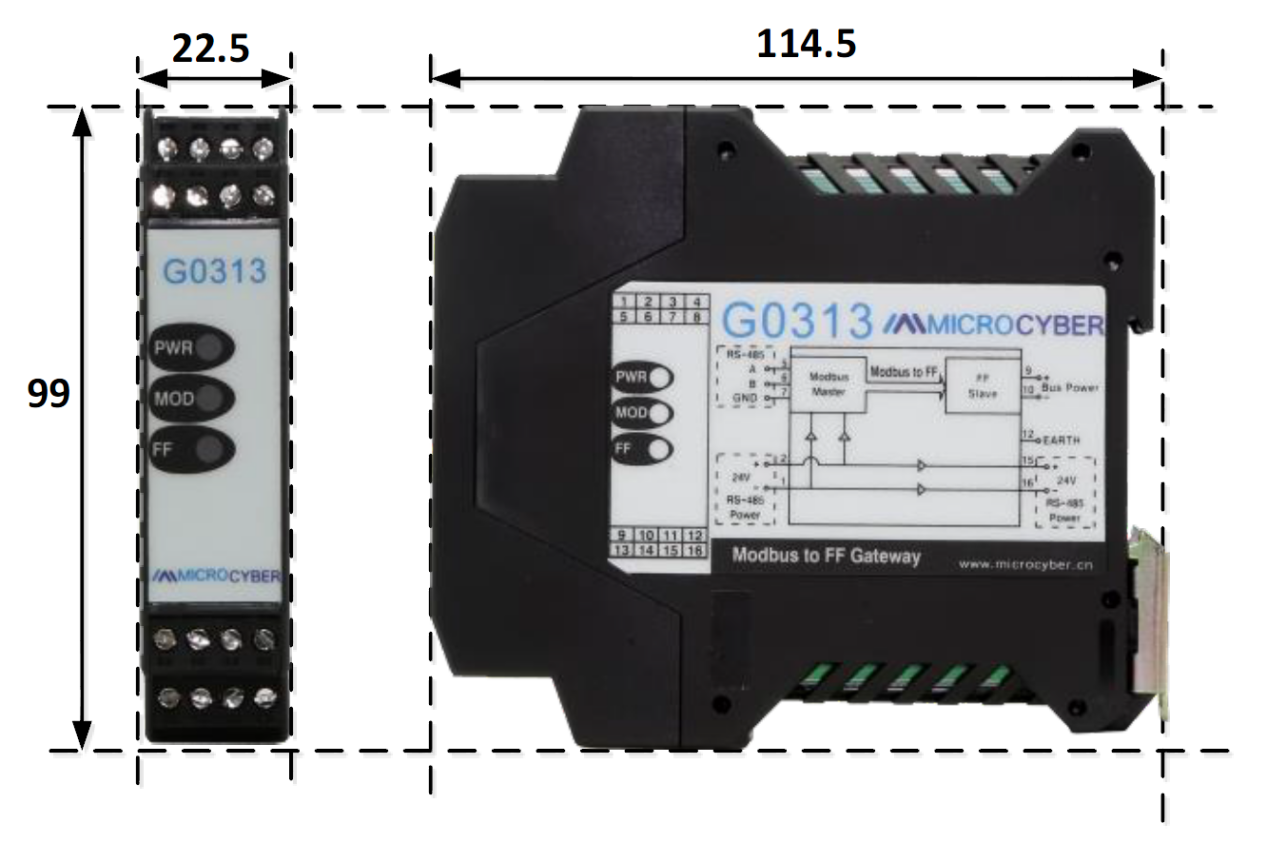 Modbus to FF Gateway Structure Diagram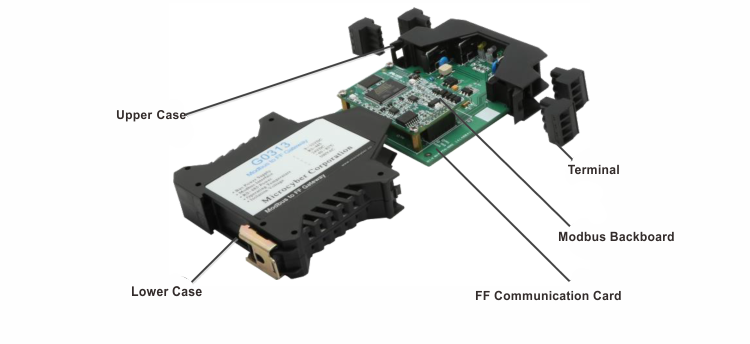 Whole Structure of Gateway Device

Modbus to FF Gateway Installation
G0313 Modbus to FF Gateway size is 99*2.5*14.5mm, and supports standard DIN rail installation.
G0313 Modbus to FF Gateway's power supply has two parts, FF bus power and 24V power of RS485 communication. Shielded twisted-pair cable is recommended, which can help device improve resistance to electromagnetic interference.
Modbus to FF Gateway Configuration of DIP Switch
Thereisa3-bitDIPswitchforG0313ModbustoFFGateway,shownasFigure 5.
SIM: Simulation switch, used for"simulation function".
WP: Write protection, all the write operation for FF smart pressure transmitter shall be refused, which avoid data
modification at random.
RST: Reset, reset device date to factory original. Power off the device at first, and made the switch at ON, and then power on the device, the device shall be reset to factory original.
Modbus to FF Gateway Parameters
Basic Parameters
Measure Object: Modbus RTU Slave Device
Modbus Power: 24VDC
FF Bus Power: 9~32VDC
Bus Protocol: Two-wire, FF Protocol
Insulating Voltage: Modbus and FF Bus Interface, 500VAC
Temperature Scale: -40℃~85℃
Humidity Scale: 5~95%RH
Start Time: ≤5s
Refresh Time: 0.2s
Modbus to FF Gateway Performance Index
Protection Level: Housing protection level is IP20.
Electromagnetic compatibility:
Meet GB/T 18268.1-2010
Test Method for FF Port Meets GB/T 18268.23-2010.
Modbus to FF Gateway Physical Properties
Weight: 0.2kg
Structural Material Housing: Polyamide PA6.6;
Coating: Polyester Epoxy Resin
Modbus to FF Gateway Default Communication Parameters
Slave Address: 1, 2, 3, 4
Baud Rate: 9600
Data Bit: 8
Stop Bit: 1
Calibration: EVEN
CRC Calibration: Low Byte Ahead
Modbus to FF Gateway Supportive Modbus Function Code
1: Read Loop Status
2: Read Discrete Input Status
3: Read Keeping Register Value
4: Read Input Register Value
5: Write Loop
6: Write Single Register Values
16: Write Multiple Register Values
Modbus to FF Gateway Working Principle
Modbus to FF gateway is a gateway device supporting Modbus and FF protocol. As FF device, it can communicate with Modbus devices, read Modbus data to FF device by simply configuration, and transfer data to control system through FF bus. System Wiring Diagram of Modbus to FF Gateway is shown in picture: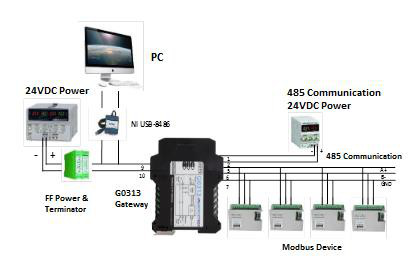 Modbus to FF Gateway supports 4 Modbus slave devices, 8 groups of analog input output and discrete input output parameters, totally 32 channels provided. It configures Modbus device's data into transducer block's parameters via Modbus register, and provides data support for FF system via channels between variables and AI, AO, DI and DO function blocks. Principle Diagram for MODBUS to FF Gateway is shown in picture.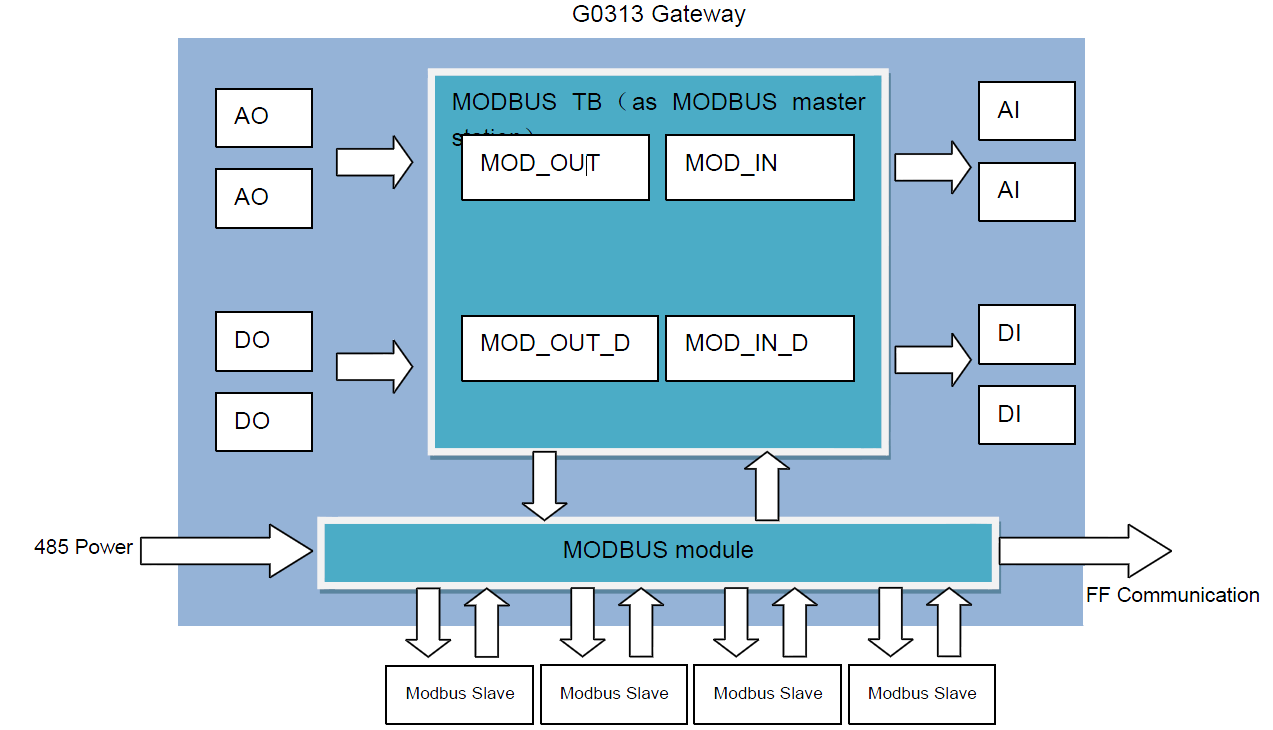 Principle Diagram for MODBUS to FF Gateway

Configuration of Gateway
FF transmitter supports many net topologies shown as Topology of FF Bus The bus connection of FF instrument is shown inFF Bus Connection, in order to ensure the bus signal quality, the terminal matching resistances should be connected to the 2 ends of the bus. The bus maximum length is 1900m, with a repeater, the length can be extended to 10 kilometers.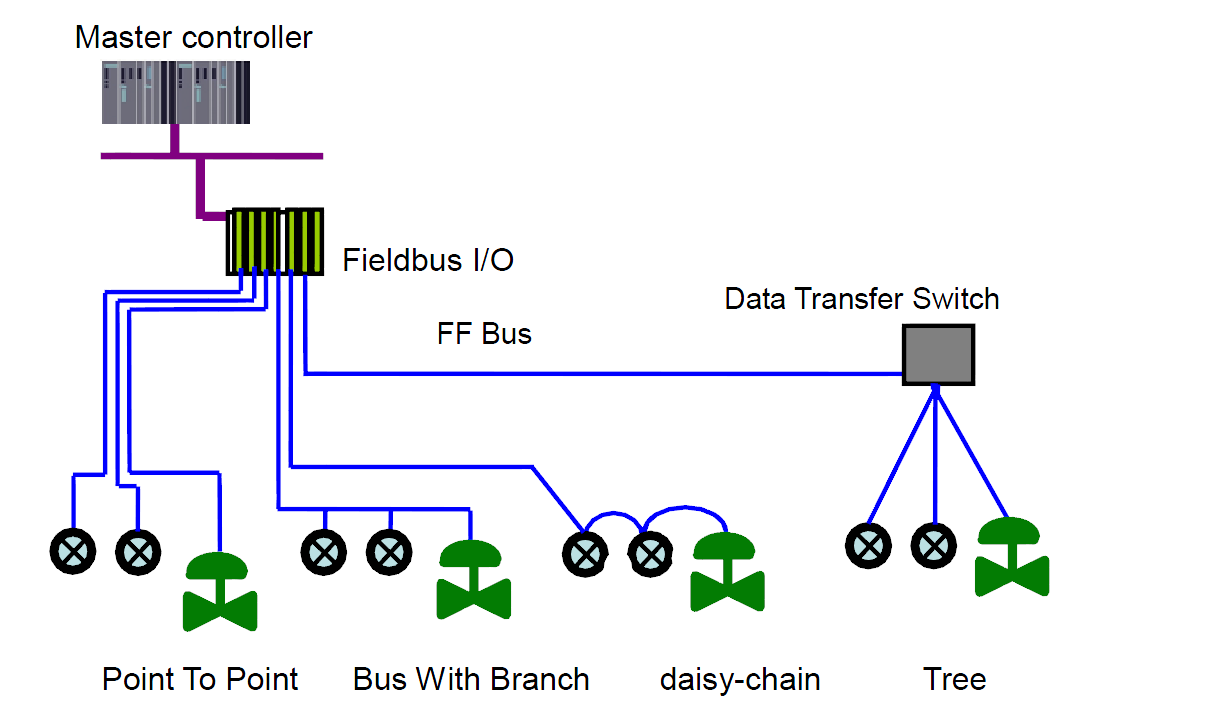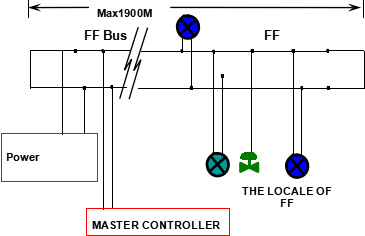 Topology of FF Bus FF Bus Connection
How To Choose G0313 Modbus to FF Gateway?
Appendix 1 Model Selection Table for G0313 Modbus to FF Gateway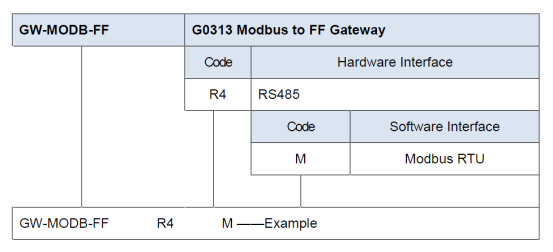 Hot Products--Modbus Gateway