PA Temperature Transmitter Function Configuration
10-03-2020
Temperature Transmitter--NCS-TT106
PA Temperature Transmitter Configuration
Function Configuration
PA smart transmitter parameter configuration follows Profibus PA Specification Version 3.02. It can realize read and write function for transmitter function block parameters via Simatic PDM, also is able to configure temperature module via Siemens Step7.
Configuration Environment
PC, Windows 2000 or Windows XP;
Siemens Step7 Configuration Software, Siemens PDM Device Management Software;
DP/PA coupler or linker;
1 Master such as PLC, 2 Master such as CP5611;
PA Terminator;
Standard temperature source.
Temperature Transducer Block Parameter Configuration
Transducer block separates function block from sensors, actuators and other I/O devices. It depends on the device supplier to access and control I/O devices. Transducer block is able to get input data and set output data by accessing I/O devices. Generally, transducer block has the function of linearization, specialization, temperature compensation and data's control and exchange, etc. Transducer block structure is shown as picture.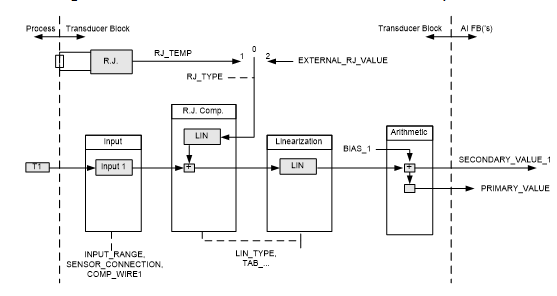 Transducer Block Structure
Here is a video to know MICROCYBER temperature transmitter:
Click here to know temperature transmitter products: