Temperature Transducer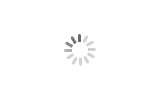 Temperature Transducer
Microcyber

China

In Stock

500 Sets/Month
Temperature transmitter sensor supports FF Hl, PROFIBUS PA and HART protocoIs and multiple temperature sensors. With independent R&D communication controller, it has become a fieldbus temperature transmitter with high performance.
Temperature Transducer:
NCS-TT106 smart temperature module, using the fieldbus technology, is a new generation of smart fieldbus temperature transmitter and it is an indispensable field device for process control. NCS-TT106 transmitter integrates abundant function blocks and realizes not only general measurement function but also complicated control strategy.
Field Mounted Temperature Transmitter Features
Support multiple thermal resistances and thermocouples
Thermal resistance supports2/3-wire connection mode
Thermocouple can use cold end compensation function
Mounted Temperature Transmitter Parameters
Basic Parameters
Bus Power Supply: 9~32VDC
Current consumption (static):≤14mA(FF/PA)
11V~35 VDC(HART) Input Signal: Pt100, Pt1000, Cu50, Cu100 Ω, 0, 0 to 500 ~ 4000 Ω Resistance, B, E, J, N, K, R, S, T eight degrees of Thermocouple, -100mV ~ 100mV Voltage Signal
The Channel Number: Single Channel
Fieldbus Protocol: FF/PA/HART
Insulation: Between the Terminal and the Housing:500Vrms(707VDC)
Operating Temperature: -40℃~85℃
Humidity Range: 0%~95%RH
Starting Time: ≤5secs.
Turnover Time: 0.5secs.
Electromagnetic Compatibility: In Line with the GB/T 18268-2010
Explosion-Proof Sign: Ex ia IIC T4 Ga (HART)
Temperature Transducer Structural Parameter
Dimensions: Φ45*23mm
Shell Material: Nylon
RTD Room Temperature Accuracy Index

Dimension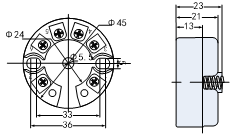 Installation
Via positioning hole, use two screws to install the temperature module to temperature housing or rail.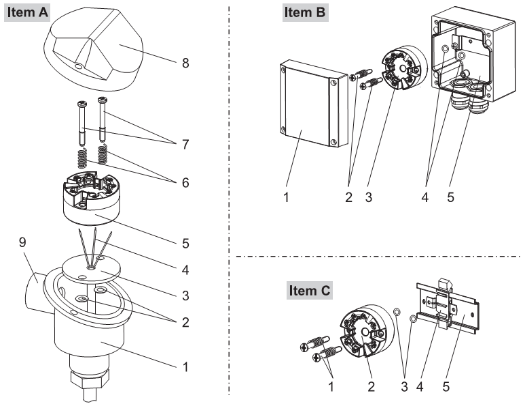 How To Choose Temperature Transmitter?
Selection Code Table

Temperature Transducer Wiring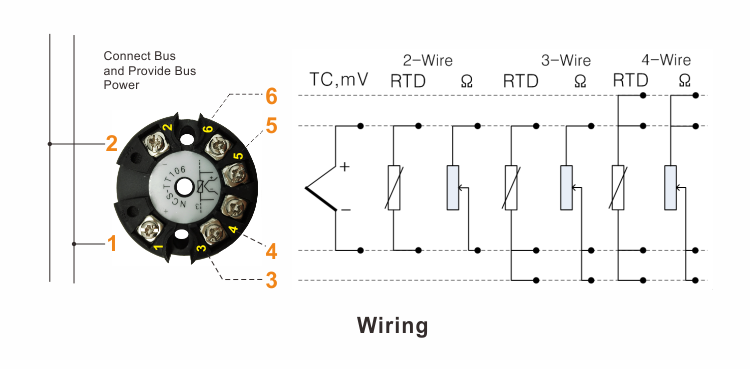 Fieldbus temperature module's power and bus signal share a pair of cable, and it is called bus cable. It is suggested the user use fieldbus special cable recommended by IEC61158-2.
The signal cable and bus cable cannot share wires or wire slot with other device power wire, and they shall be away from device with high power.
The shielded wires of bus ends shall be connected to the ground.
Related Products---Temperature Transducer