Hart Communicator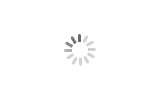 Hart Communicator
Microcyber

China

In Stock

500 Sets/Month
Industrial automation instrument is upgrading from traditional 4-20mA analog control signal to industrial fieldbus with digital communication function. HART bus had digital communication function and it's compatible with 4-20mA analog control signal.
Hart Communicator Modem: In the instruments industry, the traditional 4 – 20 mA analog transmitters are upgrading to the fieldbus with digital communication. HART fieldbus communication has digital communication capability with compatible analog signal. HART MODEM is a necessary and convenient tool for the analog products upgrading and signal exchanging in the control plant.
We provide two kinds of HART modem. HART-RS232 is the converter for HART signal to RS-232 signal. HART-USB is the converter for HART signal to PC virtual series port.
Hart Communicator Modem Features
Product Characteristic
According to the HART physical layer specification
Isolated transformer prevents the influence of earthing.
Voltage signal modulator/demodulator
Low power consumption designation
Powered by series port or USB port
Interface Type: DB9 female mount
Ambient Temperature: 0 ~ 50 ℃
Compressive Strength :500 V AC HART bus and serial port (UART,USB)
Receiving Impedance : ≥5 K Ω, end-to-end
Output Signal VPP: 600 mV ≥ VPP ≥ 400 mV, 500 Ω load resistance
Receiving Sensitivity: 120 mV, 500 Ω test resistance
Hart Communicator Modem Configuration Kit for HART Modem
Easy to use
Compatible with all standard HART Instruments
LEDs for signaling the sending / receiving
No external power supply required
Standard USB/RS232 connection to PC
Galvanic isolation
Hart Communicator Modem Parameters
Specifications
Power Supply: No External Power Supply Required
Galvanic Isolation: 500VAC Between the Device and the PC
Receiving Impedance: ≥5KΩ
Receiving Sensitivity: 120mVpp
Output Amplitude: 500mVpp(500Ω )
Connector:
USB/RS232 Connector to PC
2 Alligator Clip on Transmitter
Cable Length:
USB/RS232 Cable: 1.5m
HART Cable: 1.00 m
Hart Communicator Modem Housing
Weight: App. 125 g(Include Cable)
Modem Dimensions: 60 x 45 x 14 mm
Hart Communicator Modem Environments
Operating Temperature: 0 to 50 °C
Storage Temperature: -40 to 80 °C
Humidity: 0-95% (no Condensation)
Hart Communicator Modem PC System
Operating System: Windows 98/ME/2000/XP/win7/win8
USB/RS232-Port: USB-Host/RS232
Hart Communicator Modem Usage Instruction:
HART Modem is the protocol converter between HART device and configurator on PC.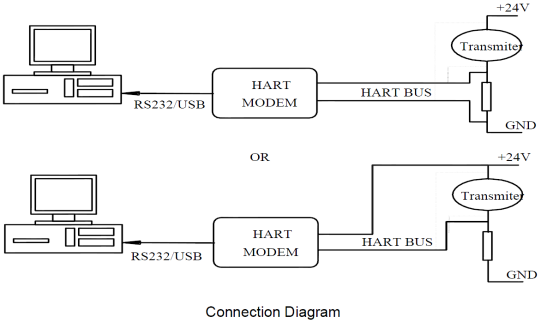 The figure above is a sample basic case. To connect multiple HART device, please connect the other devices parallel with the "Transmitter". Please note that the power should support multiple devices and the terminator should be set in the middle of the power and parallel point.
HART-RS232 is a HART MODEM with voltage modulator/demodulator. To communicate with a HART device, please connect the clincher of HART port of HART-RS232 to the two terminals of the network adaptor resistance or the power of HART device. To communicate with a PC, please connect the other port of HART-RS232 to the series port of PC.
The USB driver installation program should be run for HART-USB. The driver provides a virtual series ports for HART configurator software.
The indication light shows the state of modem. Green LED indicates the power is working well and the modem is sending data. Red LED indicates the modem is receiving data.
How To Choose NCS-HM105 HART Modem?

Hot Product--HART Communicator