Industrial field wireless network coexistence
16-05-2018
In some process industrial applications, people have concerns about the application of wireless technology in the factory. They are mainly worried about the radio frequency interfering with the reliability of certain important communications after adopting the wireless scheme. WirelessHART wireless technology solves this problem by using the MESH network and other technologies to ensure extremely high reliability in the communication between the field network and the plant network.
Emerging industry wireless technology applications have gradually gained recognition in the process industry. Compared with traditional cable solutions, its installation cost is lower and installation speed is faster. Wireless applications include monitoring process and equipment status, making it easier for plant personnel to obtain information from anywhere in the plant, and track remote equipment and personnel.
However, there are still some process industries that have doubts about adopting this new technology or other new solutions. They are mainly worried that there may be radio frequency interference between multiple wireless technologies and affect the reliability of major communications, such as the use of IEEE 802.11b/ g and IEEE 802.15.4 wireless technologies.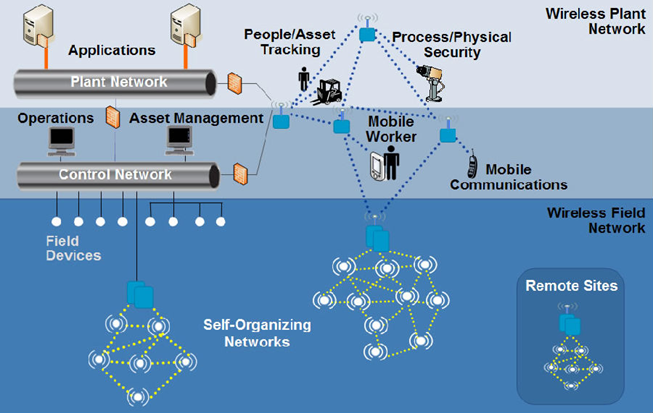 The Smart Wireless solution of Microcyber adopts the WirelessHART protocol. The WirelessHART network is a self-consisting wireless MESH network and conforms to the IEEE 802.15.4 standard at the physical layer.
WirelessHART network technology provides redundant communication paths (diversity of paths) in order to achieve better reliability, compared with direct wired communication between devices or the communication through gateway. Any time the network or environment changes affect the communication, the device and the gateway will find other paths together to ensure the reliability of the data with the lowest power consumption. WirelessHART also has some other features that help improve communication reliability. Frequency hopping technology achieves frequency diversity. Time-division multiple access (TDMA) enables time diversity, ensuring that a channel can only allow one device to transmit at the same time. Low power consumption equipment achieves power diversity. Direct Sequence Spread Spectrum (DSSS) adds anti-jamming capability.
These functions not only avoid radio frequency interference but also prevent electronic interference from motors, lamps or other equipment in the factory. In the practical application of the process control plant, the wireless devices of Microcyber have been proven to have these functions, and the data reliability has reached more than 99.9%.